The International Institute of Technology offers courses that are ideal for students of all ages and backgrounds.
We offer a specialised range of programs from Certificate IV to Advanced Diploma level that are suitable for the entry-level adviser or recent graduate as well as the financial service professional wanting a career pathway to the next level.
Career Opportunities
---
Upon completion of a FNS50615 Diploma of Financial Planning qualification IIT graduates can apply to be accepted into the AMP Advisor Academy program which effectively is a "boot camp" training program for new advisors.
This program gives advisors the opportunity to be trained by Financial Planning professionals so that they can have "real world" experience in advising clients, selling products and learning the skills required to be effective communicators and advisors in the finance industry. To be eligible for the Advisor Academy program you need complete your RG146 via our FNS50615 Diploma of Financial Planning qualification. Many of our students have graduated from our Diploma of Financial Planning program and been successfully accepted into the Advisor Academy Program.
Testimonial from one of our students-
| | |
| --- | --- |
| ERIN SANDERSON | I am writing to say thank you! I completed my Dip. FS in November 2009 in Melbourne with IIT. I had recently finished my bachelors degree and wanted become a financial planner. I have just been accepted into AMP's Horizons program for new planners and I am over the moon! Competition for places in this program is fierce and as an at-home mum who has been out of the workforce for the past 6 years I feel that my success is a credit to the focused, effective education that I received from IIT. I feel that working with the facilitator in the workshop program in particular gave me the opportunity to learn more about the industry than merely the contents of the RG146 qualification. Thank you for such a great head start. |
Students need to contact AMP Advisor Academy to apply for the program and they will go through the necessary process with you and give you all the information on the program. Please click on the AMP Advisor Academy image below to find out more.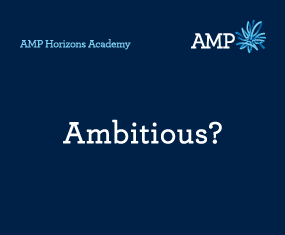 Professional Recognition
---
All courses offered by IIT have been prepared to help you enter the Australian financial service industry and it's various professional associations. For specific information on compliance and IIT, please click here.
CPD Points Accreditation 
The following IIT courses have been approved by the FPA as CPD (continuing professional development) Accreditation Activities.
Find out more by calling 1300 88 33 46 or email education@iit.edu.au for specific information on amount of CPD points available.
Disclaimer: This activity has been accredited for continuing professional development points by the Financial Planning Association of Australia but does not constitute FPA's endorsement of the activity. Accreditation number 006725
Finance & Mortgage Broking Association Membership
Upon completion of FNS40815 Certificate IV in Finance & Mortgage Broking or FNS50315 Diploma of Finance & Mortgage Broking Management studies, IIT graduates are eligible to apply for professional membership with either the Mortgage & Finance Association of Australia (MFAA) or Finance Brokers Association of Australia (FBAA), as both courses offered by IIT are recognised. For MFAA membership both the Certificate IV and Diploma is required as well (as an additional case study to be conducted by the MFAA), the FBAA simply require the Certificate IV.
Further Study Options
---
IIT has articulation agreements in place with several universities. After you complete an Advanced Diploma of Financial Planning FNS60415 you can apply to one of the courses below and receive credit for studies already undertaken. Specifically:
Advisors who have 5 years or more experience, as a Financial Planner, can go straight from IITs Advanced Diploma of Financial Planning into the Masters of Applied Finance and meet AMPs new requirements by 2019 to become a CFP or hold a Masters in Finance. Two credits go towards the Masters course from our Advanced Diploma. Please call to find out more on 1300 88 33 46